have you ever wondered how many LED lights, or LED lumens, you need to light a room?
1. PC cover: transminssion >90%\n2. Chips: CRI > 80Ra, 120Lm/pc, pass Lm80\n3. Driver: stable IC solution over 8000hrs lifespan of capactior\n4. Alu + plastic base: better heat conducting\n5. E27 or B22 connector optional\n6. Wide range 85-265V input, 50/60 Hz\n7. 100Lm/W lumen efficiency\n8. PF >0.5\n9. CRI >80 \n10. Shatter resistant\n11. PC diffuser, PBT base\n12. Using plastic-coated-aluminum technology, more durable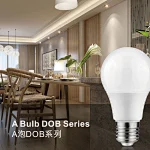 LED Strip lights are becoming more and more popular for home lighting. More than likely you have heard the argument for LEDs over incandescent and even halogen bulbs: they are more efficient, brighter, longer lasting, they don't produce much heat, they are easily controlled and programmed…the list goes on and on. LEDs come in extremely compact packages that are durable and resistant to shock, making it so they can be used in a variety of ways.